Made from the finest quality of Mica, Mica Discs is another fine product of Mica that is widely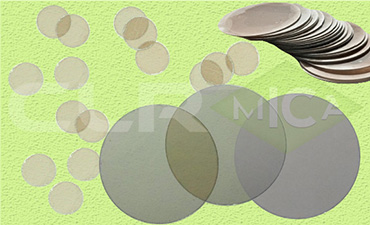 used in various numbers of industries. The Mica discs offers the best protection to circular viewpoint glasses and great visibility for checking the degree of combustion and levels in the liquids in high-pressure steam boilers.
C. L. Roongta brings the finest range of Mica disks that are processed and manufactured by using high-quality mica from its crude form. The manufacturing processes are strictly supervised by the professionals who are experts in the arena of processing the materials. The packaging of these products undergoes strict supervision so that each material is packed finely and remains intact for future use.
The Mica disks are used in a number of areas such as:
Communication devices
Broadband wave plates for optical instruments
Breathing apparatus
Geiger counters
And in various other areas
C. L. Roongta has earned high fame in the worldwide market and among its clients by bringing in the best quality products. Mica is one natural mineral that is extensively used in a number of areas and also used to give a sparkling effect to various things. The discs made from the finest quality mica helps to provide a clear vision for checking the level of anything in the boilers.
Mica Discs India
C. L. Roongta is one of the leading manufacturers and exporters in India that are highly famous in providing the best and high quality Mica and its products in the market. Clients from all over the world highly favor the products manufactured by this company as they find the materials to be in the top most quality. This company has consistently maintained their quality in terms of both commitment and products and has been delivering the clients with superior quality products over the period of time. The disks are used in a number of areas such as fuses, breathing apparatus, communication devices, Geiger counters, broadband wave plates for optical instruments and a number of various other things.
Mica Discs India that is manufactured by C. L. Roongta provides the unsurpassed protection to circular viewport glasses and ideal visibility for checking the degree of combustion and liquid level in high-pressure steam boilers. With its varied positive features, Mica is extensively used in a number of industries to make the work of the employees smooth and easy. Mica works as a fantastic insulator and also is used for decorative coatings on concrete, wallpaper, stucco, and tile surfaces. These discs can be purchased at the most cost effective rates from this company.
Mica Discs Exporter
Mica is a natural mineral that is available mostly and remarkably in the presence of Paleozoic rocks. The main accessible deposits are located chiefly in India, the American continent, in southern Africa and in Russia. Representing 37 phyllosilicate minerals, Mica group have a platy or layered texture and the commercially main Micas are muscovite and phlogopite. Mica s a mineral has a very special characteristic that it can be fissured to obtain very slim flakes of invariable thickness. Mica remains highly stable when it is exposed to mainly:
Electricity
Light
Moisture
And in extreme temperatures
Mica is available in its crystalline structure and form, which can be delaminated into thin sheets that usually cause foliation in rocks. These sheets are dielectric, chemically inert, elastic, hydrophilic, flexible, insulating, platy, lightweight, reflective, resilient, refractive, and range in opacity from transparent to opaque. Mica can be easily split into very thin sheets and the best part is that in can retain its electrical properties, high dielectric breakdown, thermally stable to 500 °C, and is defiant to corona discharge. C. L. Roongta knows various premium ways to make the best use of Mica and its properties so that their clients can get the ultimate advantage of using the products.