C. L. Roongta is counted as one of the most distinguished manufacturer and exporter of premium range of MICA SHIELDS. These mica shields are prepared by some of the most experienced people in processing Mica and are cut by hand, machined / die punched, they are flexible, elastic as well as tough and also it has high tensile strength.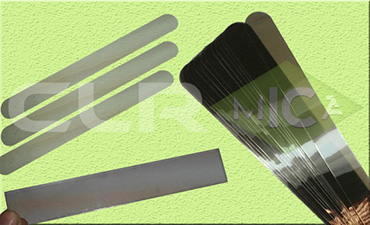 MICA SHIELDS or Gauge Glass Mica can be used to secure the liquid level gauges from corrosive and acidic solutions. It is unaffected by high temperature and high pressure, as we can say that it is a medium to monitoring the measurement of boiler, as well as pressure of steam. It provides best-sealing strength against sodium, acid, water, air and oil at extreme pressure and temperature. It eliminates the risk of breakages, jerks, cracks, combustion effects etc.
Let us tell you one thing that transparency of mica is not affected by fluctuation of cooling and heating of the boiler and it is also not affected by the vapor and gases  that it comes into contact with.
Our Mica shields are made, taking consideration of quality from reliable vendors of the market. It can be used for HP Boiler glass kits and Liquid and water level gauges of steam boilers. We believe in build a long-term relationship with our customers, no matter how small or huge requirement they have but our aim is to our customers should be satisfied with our services.
Standard MICA SHIELD sizes
NO
TYPE A/B
TYPE A
TYPE B/H
TYPE TA-28
L
B
L
B
L
B
L
B
O
95
X
24
95
X
30
95
X
34
–
I
115
X
24
115
X
30
115
X
34
133
X
47
II
140
X
24
140
X
30
140
X
34
158
X
47
III
165
X
24
165
X
30
165
X
34
183
X
47
IV
190
X
24
190
X
30
190
X
34
208
X
47
V
220
X
24
220
X
30
220
X
34
238
X
47
VI
250
X
24
250
X
30
250
X
34
268
X
47
VII
280
X
24
280
X
30
280
X
34
298
X
47
VIII
310
X
24
320
X
30
320
X
34
338
X
47
IX
320
X
24
340
X
30
340
X
34
358
X
47
X
340
X
24
370
X
30
370
X
34
378
X
47
XI
360
X
24
400
X
30
400
X
34
–
XII
370
X
24
430
X
30
430
X
34
–
XIII
400
X
24
460
X
30
460
X
34
–
XIV
430
X
24
500
X
30
500
X
34
–