Mica Insulators are made using accurately punched mica parts according to specific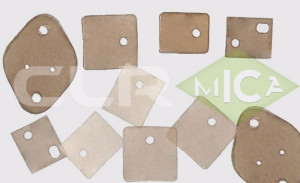 shapes and dimension. Mica Insulators are widely used as increasing washers and trusted as consistent insulators in power transistors, IC's, diodes, heat sinks, rectifiers and various other semiconductor devices. The insulators help the semiconductors to be insulated from the chassis, dissolve the heat away and keep them cool.
Punched Mica Insulators help the components to get insulated from the chassis. It performs multiple roles. One is to melt away the heat from the component and also keeps them cool. Mica properties such as high breakdown voltage, low moisture absorption, and high surface leakage resistance, adds to the advantage.
C. L. Roongta is one of the largest Manufacturer and Exporter of Mica Insulators. We specialize in supping best quality Insulators, as per clients design and specifications.